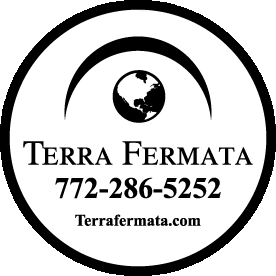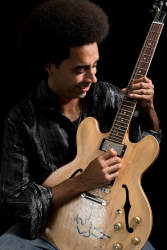 TERRA FERMATA PRESENTS
SELWYN BIRCHWOOD
With special guest, Ben Prestage
Nocturnal Resonance By: Robert Ross
Time: 7:00pm Day: Friday Doors: 6:00pm Ages: 21+ Ages Price: $10
This Event Has Ended
Online ticket sales end 2 hours before doors.
You may still purchase your ticket at gates day of show.
If using a card at the door, the Hold My Ticket service fee still applies.
Selwyn Birchwood
Official Website: www.selwynbirchwood.com
Blues fireball Selwyn Birchwood is a guitar and lap steel playing bundle of pure energy. He delivers his original songs with a revival tent preacher's fervor and a natural storyteller's charisma made all the more impactful by his raw, unvarnished vocals. Since the 2014 release of his Alligator Records debut, Don't Call No Ambulance, Birchwood has set the contemporary blues world on fire. His high-octane blues—at once deeply rooted, funky and up-to-the-minute—are played with passion and honest emotion. With his band feeding off his drive and exuberance, the striking 6'3" young man with his trademark Afro roams the stage (often barefoot), ripping out memorable guitar licks with ease. His ability to win over an audience—any audience—is proven night after night on the bandstand. With his warm, magnetic personality, Birchwood is as down-to-earth as his music is fun, thought-provoking and vital. His mission is to spread his music far and wide, to share his joy, to play his heart out, and to push the blues into the future. "There's nothing I'd rather be doing than playing the blues," he says. "And I try to convey that with every song and with every performance." 
In 2013, the Florida-based Birchwood catapulted from local hero to shooting star. He won the world-renowned International Blues Challenge, beating out 125 other bands from the U.S. and abroad. He also took home the Albert King Guitarist Of The Year Award. It wasn't long before Alligator Records president Bruce Iglauer offered Birchwood a contract. His debut album, Don't Call No Ambulance, is a fully realized vision of contemporary blues. Birchwood's original songs range from raucous romps to hill country stomps, from searing, serious slow blues to modern blues rock. Between his uninhibited sense of fun and adventure and his serious-as-a-heart-attack musicianship, Don't Call No Ambulance is a window into the future of the blues. "All originals and no filler," he says of the album. "It's that genuineness of emotion in the songs that people can hear." Rave reviews ran in publications from Rolling Stone to The Wall Street Journal, from The Washington Post to The Chicago Tribune and The San Francisco Chronicle. 
The Washington Post says, "Selwyn Birchwood is an indelibly modern and original next-generation bluesman; his tough vocals, guitar and lap steel touch on classic Chicago blues, Southern soul and boogie" According to Iglauer, Birchwood is the real deal. "Selwyn Birchwood is a terrific young blues talent with a huge future. He writes smart, infectious, fresh songs and delivers them with a warm, conversational vocal style and a fun-loving attitude. He's a killer guitarist, switching between a regular six-string and lap steel. Live, he's a ball of energy, interacting with the audience like they were in his living room. Selwyn is destined to be one of the next stars in the blues world."
Check Selwyn Birchwood out on:
Facebook: www.facebook.com/selwynbirchwoodband
Twitter: www.twitter.com/selwynbirchwood
Ben Prestage
Official Website: www.benprestagemusic.com
Ben Prestage's musical background began before he was born... even before his parents were born. Ben's great-grandmother was a Vaudeville musican who toured with Al Jolson and also participated in medicine shows. Her daughter was a Boogie-Woogie pianist and painter who used to play for Ben when he was coming up. On the other side of the family tree, his grandfather, who was a Mississippi sharecropper turned Ben onto the sounds and culture of Mississippi and Blues in general.
Ben's interesting approach to instrumentation, (fingerstyle guitar, harmonica, banjo, lap-steel, fiddle, resonator guitar, foot-drums, vocals, and his award-winning original songwriting (recipient of "The Most Unique Performer" at "The Song- writers' Showcase of America") has earned him invitations to perform across North America, Europe, and as far as North Africa. All awards aside, he has proven himself, through his live performances, to be the future of American Blues, Roots Music, Americana and is one of today's most talented outsider.
Showtimes
10:00 pm
Nocturnal Resonance By: Robert Ross