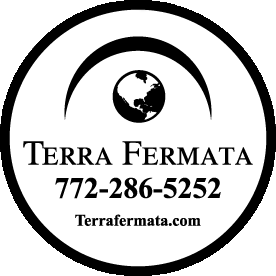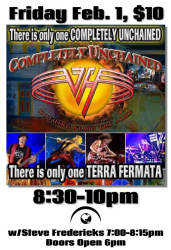 TERRA FERMATA PRESENTS
COMPLETELY UNCHAINED
The Ultimate Van Halen Tribute Band--Tickets Only $10--With Steve Fredericks opening with a rowdy 80-90s classic rock solo set of Nirvana, Pearl Jam, Stone Temple Pilots and more.
Time: 7:00pm Day: Friday Doors: 6:00pm Ages: 21+ Ages Price: $10
This Event Has Ended
Doors open 6pm. COMPLETELY UNCHAINED: THE ULTIMATE VAN HALEN TRIBUTE BAND--8:30-10pm
With Steve Fredericks opening, 7-8:15 with a rowdy 80-90s classic rock solo set of Nirvana, Pearl Jam, Stone Temple Pilots and more.
Only $10

Band Members: Gene Henriksen, Jake Miller, Kevin Humphris & George Pagonis

Completely Unchained are four talented and creative musicians that re-create the ultimate Van Halen production - the attitude, sounds, excitement, energy and most of all the fun that Van Halen produced as one of the best rock bands in the world. Starting off by reproducing the very best of the original line up, then merging the "Van Hagar" era with some David Lee Roth solo hits, completes a whole catalog of the greatest hard rock songs ever recorded.

Nothing comes closer to Van Halen than Completely Unchained - you've just got to see it to believe it.
Collectively, These boys bring something special to "Completely Unchained"
David Lee Roth's screams, wit & athletics, Eddie Van Halen's legendary guitar sound & riffs, Michael Anthony's bass & back round vocals & Alex's thunderous percussion.

They have always loved what "VAN HALEN" brought to the music industry, not just in songs & guitar skills, but in attitude & energy. It's what you will witness when watching them as they perform their rendition of a "Van Halen" show as "Completely Unchained".

It's all the Magic, Fun & Pure Energy that made "Van Halen" the most entertaining & intriguing artist of all time. "Completely Unchained" is not a copycat tribute band, they bring too much of their own magic to the stage. Instead "Completely Unchained" seduces their audience members to participate in what they call "The show" and that "Show" is all the Lights, Magic, Sound & Spirit of "Van Halen".