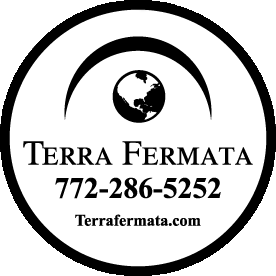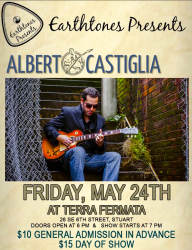 EARTHTONES PRESENTS AN EVENNING WITH
ALBERT CASTIGLIA
It's little wonder that Miami's New Times lauded him as South Florida's "Best Blues Guitarist" Tickets $10 Advance, $15 at the Door
Time: 7:00pm Day: Friday Doors: 6:00pm Ages: 21+ Ages
This Event Has Ended
"It may be a bit premature to crown Albert Castiglia America's newest King of the Blues, but there's little doubt that he at least deserves the title of heir apparent." -- Miami New Times

"I think blues is a wide open net," Castiglia once told a reporter. "There are a lot of different ways to do it...I've taken a lot of heat for what I do. Some people think I'm too edgy to be considered a blues artist. On the other hand, I don't think that people like Muddy Waters and Howlin' Wolf would have wanted me copying them and redoing their stuff. There's no point in doing that. They would want me to do my own stuff."

Of course, Castiglia should know. The Miami-raised musician served an apprenticeship while backing legendary blues musician Junior Wells. He later went on to work with singer Sandra Hall. Never content to allow himself to be confined to any particular category, he embarked on a solo career that's yielded eight critically acclaimed album and consist kudos for his exceptional instrumental prowess, his searing vocals, and live performances that have dazzled audiences from coast to coast. It's little wonder that Miami's New Times lauded him as South Florida's "Best Blues Guitarist" or that USA Today was inspired to remark "It's a revelation to discover the thrilling retro-electric blues from this astonishing young guitarist." Likewise, BluesABout.com called Castiglia "one of those mid-tier artists that is just one album away from breaking big and becoming a household word in the blues world." Or, as M Music & Musicians once noted, "His back-to-basics approach follows in the footsteps of those who fostered the blues in the Mississippi Delta and the smoky late-night haunts of Chicago."