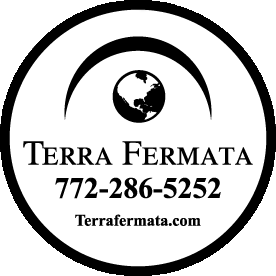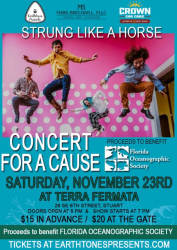 EARTHTONES PRESENTS--A CONCERT FOR A CAUSE
STRUNG LIKE A HORSE
Earthtones Presents, Mark Brechbill PLLC, and Crown Car Care are proud to host STRUNG LIKE A HORSE for a Concert for a Cause to support the Florida Oceanographic Society. $15 advance, $20 door.
Time: 7:00pm Day: Saturday Doors: 6:00pm Ages: 21+ Ages
This Event Has Ended
Ladies and gentlemen, here is the story of Strung Like A Horse ...

Sometime in 1983 a junkyard rocket shaped sperm crash-landed into a 1965 Cadillac ElDorado shaped egg (convertible of course) and nine months later, give or take, Clay Maselle horse-kicked his way into a world to which he would never belong. In time he discovered he was not alone. There were other hillbilly misfits living undercover all around him. A born leader, he got four of them arrested for stealing yet another Cadillac--a hearse this time--and they became an inseparable unit. Seeing as how they weren't employable they turned to the only thing all of them were actually good at: pickin'.

Several years and many thousands of miles later the Strung Like A Horse outfit, now a well-oiled machine, gallops into Stuart. Don't miss their signature gypsy grass sound and fiery hot high-energy stage show. Moonshine is optional but recommended. These junkyard dogs bring "honest, playful, headbangingly interactive fun" to any venue their rocket crashes.


4,742 miles! That's how far Alaska's Guitar Alternative and ukulele wild man has come to share his "Unconventional Ukulele for Unconventional People". Ukulele Russ & His One Man Frontier Band (the only full sized sounding band in Alaska that will fit inside a single engine plane) has carved out his niche and finally proven to the masses that the ukulele is stringed testosterone in the hands of the right man.

Hailing from the edge of civilization in interior Alaska, Russ has been bringing his unique skill set and quick wit to the entertainment world all over the North American continent and overseas. A versatile and adaptive performer, Russ is ready for whatever the world has to throw at him.

Over the last decade he has been honing his skills in subarctic interior Alaska where he lives without running water on the edge of civilization. He has become a regular in the frontier and has been spreading his passion for the ukulele where ever he goes around the globe.