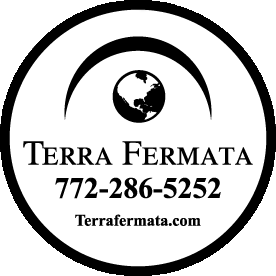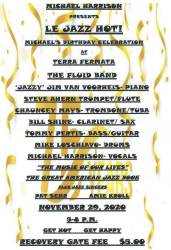 SUNDAY FUNDAY TWILIGHT SHOW
LE JAZZ HOT! featuring THE FLUID BAND
Michael's Birthday Celebration
Time: 5:00pm Day: Sunday Doors: 4:00pm Ages: 21+ Ages Price: $5

Ahh! What a great day to start letting you all know about my show coming up at Terra Fermata on November 29th, 2020! I've entitled it "LE JAZZ HOT!" I will have Jim van Voorheis and the Fluid Band with me again....just the best musicians anywhere and along with my two fabulous guest stars, Amie Kroll and Pat Sehr! We will make it an evening not soon forgotten!
The show is also going to be my 75th birthday celebration! Yes! Indeed! I'm going to be 75 years in the near future!....and I can not think of a better place to celebrate, than Terra Fermata. I do have quite a history with Terra, and I am so glad that Eric Wickstrom has been able to survive and keep Terra Fermata viable throughout this dreadful panDAMNdemic!
Of course, we will have the best sound, too! Mr. Jonathan Mark will once again be doing our sound! He is the best around! I'm sure that Keith Bessette will agree with me on that!
I hope to see YOU there! November 29th....it's bound to be just a beautiful evening!
Life is a song! Sing it!