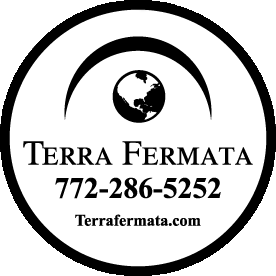 Choose Showtime to Buy Tickets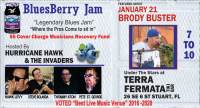 HAWKSEYE PRODUCTIONS PRESENTS
HURRICANE HAWK'S BLUESBERRY JAM--w/SPECIAL GUEST BRODY BUSTER
The Premiere Blues Jam in South Florida. Just $5 Cover Charge
Ages: 21+ Ages Price: $5
All Event Showtimes
January 21, 2021 7:00 pm
- 10:00 pm
January 28, 2021 7:00 pm
- 10:00 pm
February 4, 2021 7:00 pm
- 10:00 pm
February 11, 2021 7:00 pm
- 10:00 pm
February 18, 2021 7:00 pm
- 10:00 pm
February 25, 2021 7:00 pm
- 10:00 pm
BluesBerry Jam has become the premier blues jam in South Florida and is hosted by HURRICANE HAWK & THE INVADERS: Hawk Levy, Steve Bolanda, Mike Loschiavo and Pete St. George. Professional blues artists are always welcome to sit in, but space is limited, arrive early to sign "the list". Each week also includes a special guest star. This week we have guest TBA. Doors open at 6pm. Happy hour with all craft drafts only $5 runs 6-7pm, and showtime runs 7-10pm. Only $5 admission for a show that would cost $20-30 in other venues.

When Brody Buster was 7 years old, he picked up one of his mother's old harmonicas and began to teach himself how to play this wonderful instrument. Yet, did he know in a short time he would be jamming on Beale Street in Memphis, Tennessee. Being this child prodigy had its perks along with being featured on countless TV shows during this whirlwind time of his life. Highlights include The Tonight Show with Jay Leno, Dateline, Crook & Chase, Jon Stewart Show even a feature on Baywatch Nights and Full House. He shared the stage with the who's who of the blues world and musical legends during the 8-year stretch. Playing worldwide as well being a featured performer at BB King's Blues Club on a regular basis. He took the blues world by storm and played with Quincy Jones, Chaka Khan, Keb Mo, Lee Oskar and many other greats. Blues Legend BB King took high interest in Brody's talent in doing so let this young blues prodigy join him several times over a few years. BB King was quoted saying that, " Despite his young age, Brody Buster is one of the greatest harmonica players of our time."
Brody turned 16 years old and began to sink himself into the current music of modern day. He felt the need to live life as a teen and find himself without music being the focal point. He made a few mistakes and began to create his own "highway to hell" has Brody likes to sing. These trials and tribulations began to groom Brody and his musical talents. Surrounding himself with his friends to jam in many bands as the years went by groups like Deadman Flats while in these projects Brody kept growing into his own skin of talents.
These days, his career isn't quite the whirlwind it once was. But Buster, who has settled in Lawrence, has grown as a multi-talented artist and continues to make his style of countrified Roots Rock-n-Roll for the masses. Brody found himself back in Memphis, Tennessee in 2017. This time he brought his shine to the International Blues Challenge for the Kansas City Blues Society as a solo performer. Yet, he had no expectation in winning this blues music competition that host over 150 performers from around the world. He had been toying with this new project he called the one-man band. It's Brody his Electric Guitar, Harp, Snare and Kick-drum "Kickin Ass" with his high-energy Countrified Roots Rock-n-Roll music. So, he showed the masses in Memphis that he still has what it takes to be an "ELECTRIFYING" musical talent. This now adult multi-talented musician made his way to the finals then stole the show...Quoted by Rick Booth "the most talented musician he seen there". In the last few years Brody has released many band and solo CD's so, he looks forward to getting back in the studio to make more great music and build on this next journey in his musical career. In 2017, he toured the U.S and Canada highlights at the Montreal Jazz Fest, Tremblant International Blues Festival, Bronze Blues and Brews in Oregon, Tall City Blues Fest in Texas, Paola Blues Fest and many countless venues so far...To Be Continue just check his calendar. Also, you can catch Brody still jammin with the fellas around the region. Just tune in at www.brodybuster.com