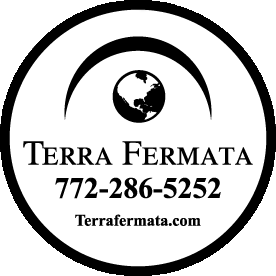 Choose Showtime to Buy Tickets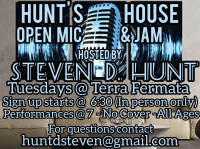 HUNT's HOUSE Open Mic and Jam. Hosted by Steven D. Hunt
Debut of new Tuesday regular event. No Cover Charge. All Ages, All Skill Levels, ALL FUN
Ages: All Ages
This Event Has Ended
Debut of new Tuesday regular event. No Cover Charge. All Ages, All Skill Levels, ALL FUN.
OPEN MIC & JAM at
Terra Fermata Tiki Bar!

Voted #1 live music venue on the treasure Coast for a decade now.
Starting November 7.
And yes, we are calling it..
"HUNT'S HOUSE"

We will be transforming the stage somewhat every Tuesday, to look like a comfortable living room, or jamming room, or studio.
You'll see couches, coffee tables, lamps, wacky TVs, and lots of other interesting items.

Feel free to bring anything that would look cool on the stage at "Hunt's House"


We are hoping that some of the performers from the whole night, will end up in a full band situation, for a jam session at the end.

I am proud to be asked to do this, and honored to grab the torch that was passed on from the previous host, Flint Blade. Thank you for your service, Mr. Blade!

All ages, no cover.
Sign ups at 6:30 Performances start at 7:00 and all acts are welcome!

Anything from
Comedy to Classical music...
Performance Art to Acid Rock...
R&B to Acrobats!

A great night to bring in your band or act and audition for potential slots at the venue in the future.
I'll have a very small minimal drum kit and potentially some amps for bass and electric guitar or keyboard.

So tell YO FRIENDS
Tell YO MAMA!
Tuesdays are going DEEEEEP,
at Terra Fermata!!

"Hunt's House-
Open Mic
& Jam"
Every Tuesday 7PM